In the backdrop of the heart-wrenching impact of the COVID-19, prevention seems to have become the new definition of cure. And rightly so as it along with perseverance is the only panacea that can keep the novel virus at bay. Recently, I shared a simple yet effective hack to make Face ID work on iPhone with a medical mask. And guess what, today I've lined up the best cases to disinfect the iPhone. So, if you think of keeping your smartphone hygienically clean by driving away bacterias, pick out one of these covers that feature antimicrobial properties.
Best Cases to Disinfect Your iPhone.
I would like to make it crystal clear that these cases are just designed to reduce microbes. They come with antimicrobial material to fight out bacteria. So, do not look at them as anti-virus covers. One more thing worth noting is that we've also included cases for older iPhone models like iPhone X and Xs. Therefore, you can buy those covers even for your old iPhones. With this little disclaimer out of the way, let's explore the roundup!
1. Speck Presidio PRO
Sporting an exceptionally durable construction in a relatively slim form factor, Speck Presidio PRO is a good looking case. Thanks to the double layers of casing, it can survive a 10-foot drop. Plus, the inclusion of raised bezel makes sure the camera and the expensive display have the essential safeguard against scratches. To ensure you have a secure gripping, it has a pretty soft finish. But what makes so handy is the anti-microbial treatment that keeps bacteria at bay.
2. tech21 Evo Check
Flaunting an eye-catching profile, tech21 Evo Check makes a stunning match with the iPhone. The visible black panel coupled with an impact-resistant bumper allows the smartphone to showcase the design. Due largely to the hygienically clean antimicrobial properties that can reduce microbes by up to 99%. Therefore, your iPhone will remain hygienically clean. As the antimicrobial material is built right into the case, it's fully equipped to deliver hygiene for long. That's not all, Evo Check can also survive even nasty drops up to 12 feet, which makes it one of the best protective covers for the iPhone 11 Pro.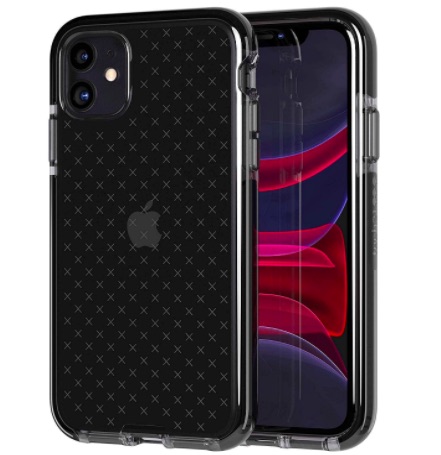 3. NueVue
Should you prefer to go with a bit of extra protection and simplicity, NueVue sleeve could be worth checking out. The sleeve is carved out of napa leather and features aesthetic design. And with the soft interior, it's fully equipped to keep your iPhone protected from scuffs and also accidental drops. As the interior is made of antimicrobial microfiber, it ensures your smartphone remains free from harmful bacteria. Being lightweight and pocket-friendly, it also slips in and out of the pocket comfortably.