How is Wi-Fi 6 (802.11 AX) different from Wi-Fi 5 (802.11 AC)?
Speed isn't the only difference between Wi-Fi 6 and WiFi 5. Its greatest strength is its capacity to support more devices while keeping the speeds up. Wi-Fi 6 supports 4x the bandwidth than Wi-Fi 5, so all the additional devices that are now connected to your network do not slow down your network speeds.
One pretty straightforward way the benefits of Wi-Fi 6 is explained is by using trucks and highways. Think of Wi-Fi 5 as a road with one lane for vehicles going in one direction and another lane for vehicles going in another direction. For Wi-Fi 6, you have more lanes for each direction. This means even with more cars on the road (read more devices on the network), the fact that there are more lanes, means speeds are not reduced.
Wi-Fi 6 is able to achieve this thanks to two new technologies – MU-MIMO (Multi-User, Multiple-Input and Multiple-Output) and OFDMA (Orthogonal Frequency Division Multiple Access).
MU-MIMO (8 x 8) is explained by using delivery trucks. MU-MIMO on Wi-Fi 5 allows routers to connect to 4 devices at a time (even if there are more) but with Wi-Fi 6, the number of devices is increased to 8. So it is like having more trucks going to deliver goods to your customers.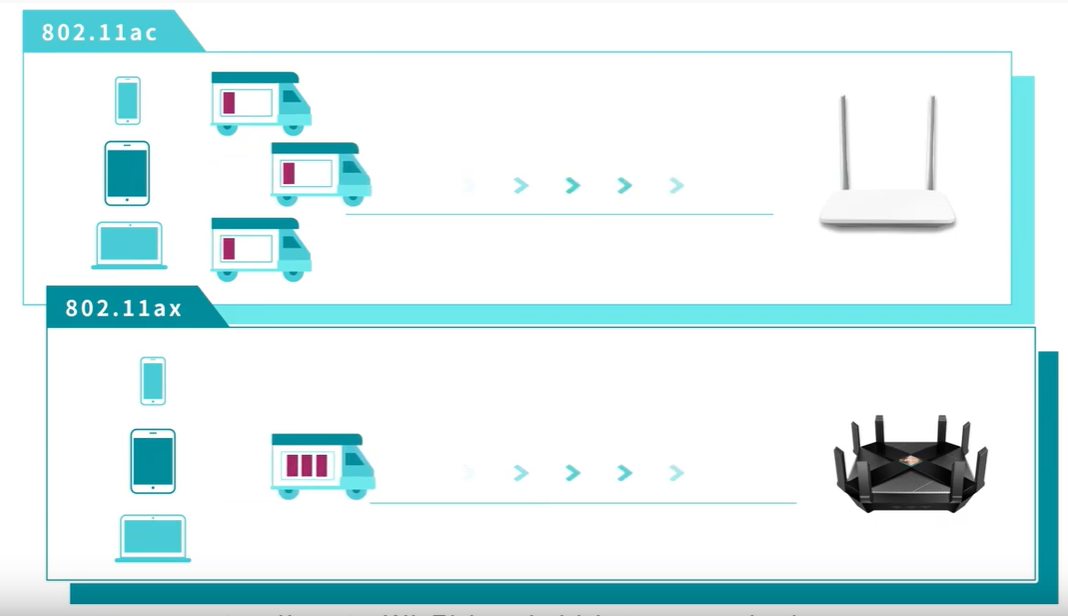 OFDMA even takes it further. Bringing back the analogy of the trucks, OFDMA allows a truck to carry goods (data packets) to multiple locations (devices) at the same time. The image below should help you understand better.