Mozilla introduced an experimental mobile browser Fenix ​​last month, which saves users' open tabs in a session so they can be opened later. Now a dark theme has appeared in the browser.
The developers chose a "dark eggplant" shade for their mode. Most of the browser interfaces have been redesigned for a new look: the main screen, the bottom URL panel, settings, search, and so on. Web pages retain their colors, so if the site is predominantly white, it will remain that way.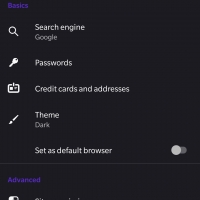 The latest version of Fenix ​​can be downloaded  here. To activate the theme, you must go to the settings and select a new function. There is also an option by which the dark mode is activated automatically when the power saving mode is on.