How to Accept Walkie-Talkie Invites
If someone has invited you to connect with them on Walkie-Talkie, you will first need to accept their invite. You can do that by launching the Walkie-Talkie app, and tapping 'Accept' on the invite as shown below.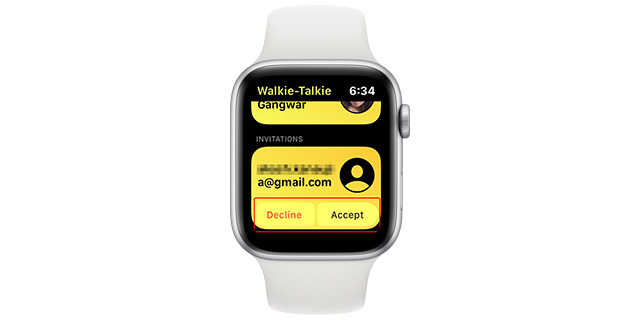 How to Enable/ Disable Walkie-Talkie
Once you've set up Walkie-Talkie and invited your contacts, anyone can reach you on Walkie-Talkie at any time. While in some situations this is useful, it's not so great if you're say, at work, and suddenly a voice starts coming from your watch. So it's better to disable Walkie-Talkie when you don't wish to be disturbed.
To enable or disable walkie talkie, just open the control center and tap on the Walkie Talkie icon. The icon turns yellow when Walkie-Talkie is on, and grey when the feature is off.