This is to inform the public and prospective corps members that the registration of 2020 Batch 'B' stream 1A prospective Corps Members at the NYSC orientation camps has been extended to Sunday 15th November 2020.
Prospective Corps Members who missed their scheduled dates are to report to camp from Saturday 14th to Sunday 15th November 2020.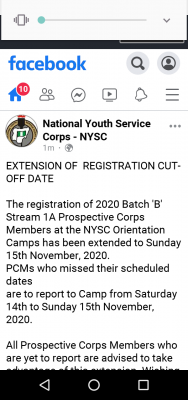 All prospective corps members who are yet to report are advised to take advantage Of this extension wishing all PCMs Journey mercies to their various orientation camps.
Signed
Management