Use Android Phone as a Webcam for Streaming or Video Conferencing
There are many Android apps out there that offer webcam functionality on the computer. However, I found DroidCam to be the best as it's free for the most part and works reliably well. It doesn't put any watermark and allows you to use both the front and back camera on your smartphone under the free version. However, if you want HD quality and better FPS support then opt for its premium version, DroidCam X ($4.99). Apart from that, the app is available on both Windows and Linux platforms, but not on macOS. In case, you want to use your Android smartphone as a webcam on a Mac then go with the EpocCam app (Free). Now having said all of that, let's move to the steps.
Note: In this article, we are using the wireless method as it's pretty seamless and easy to configure, unlike the wired method that requires ADB setup. However, for the wireless method to work, both your Android smartphone and PC should be connected to the same WiFi network.
1. First of all, install DroidCam (Free) on your Android smartphone. After that, install the desktop client on Windows or Linux from here.
2. Next, open the DroidCam app on your Android smartphone and you will be offered the WiFi IP address. Make a note of it. Also, you can go to the app settings and choose your preferred camera option.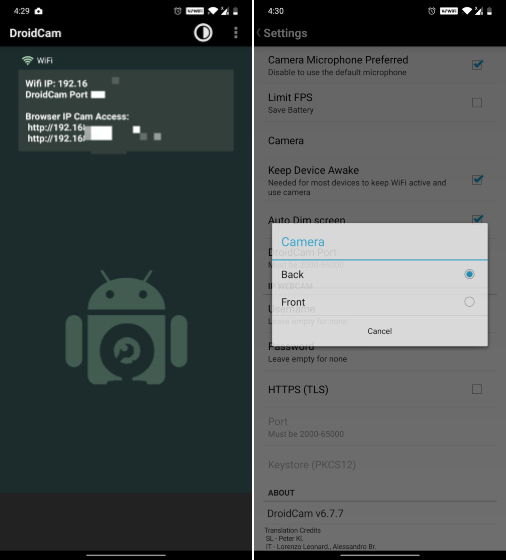 3. Now open the desktop client and enter the IP address into the "Device IP" field. Following that, enable both "Video" and "Audio".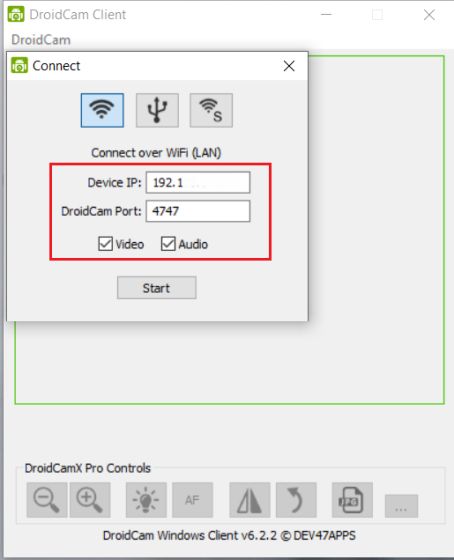 4. Finally, click on the "Start" button and there you have it. Your Android smartphone acting as a webcam. You can minimize the app or lock the smartphone, but the video feed will still pass through so that is awesome.
5. Now that we have configured our Android device as a webcam, let's use it on Zoom, Skype, Microsoft Teams, or other video conferencing apps. To use the smartphone video feed on Zoom, open Settings and move to the "Video" tab. Here, change the "Camera" from the drop-down menu to "DroidCam Source 3/2". Next, move to the "Audio" tab and change the Microphone to "DroidCam Virtual Audio". That's it.
6. Similarly, on Skype, click on the 3-dot menu and move to Settings -> Audio and Video. Here, change the Camera and Microphone to "DroidCam Source 3/2". You can follow similar instructions on other video conferencing apps as well. Always look for the camera and microphone source under the Settings page.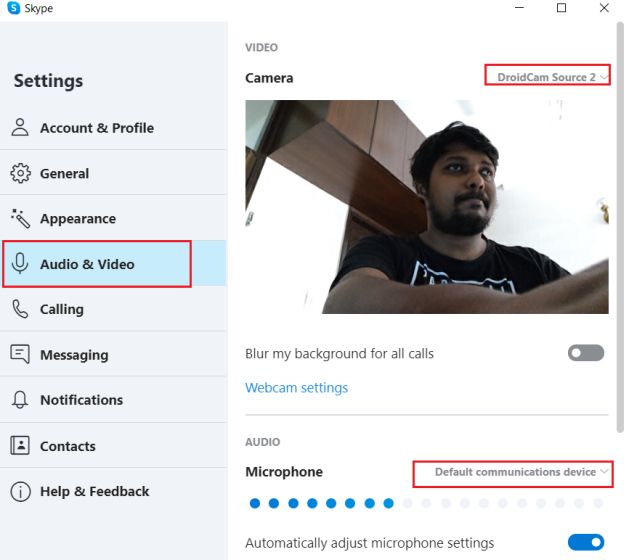 7. In case, you are using Zoom, Skype Meet Now or any other video conferencing app on a web browser then you need to change the webcam source from the address bar. Click on the webcam icon -> Manage -> Camera and change the drop-down menu to "DroidCam Source 3/2". Apart from this, on Zoom Web, you can also change the camera source from its own control at the bottom.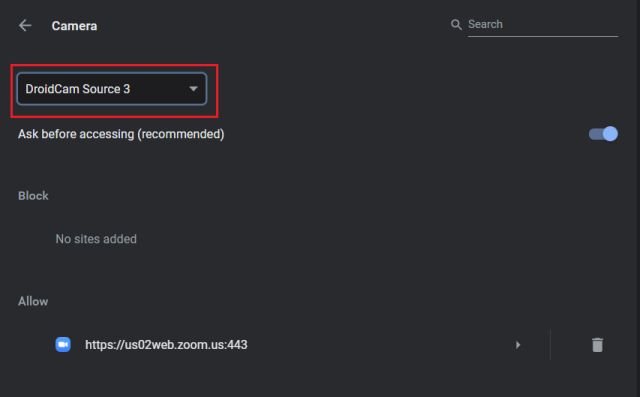 8. That was all about using an Android phone as a webcam for web meetings. But if you want to use video feed from your smartphone while streaming games then you can easily do so. Just open OBS, XSplit, or your favorite live streaming program on your computer and click on on the "+" button. After that, choose "Video Capture Device". Keep in mind, here I am using OBS.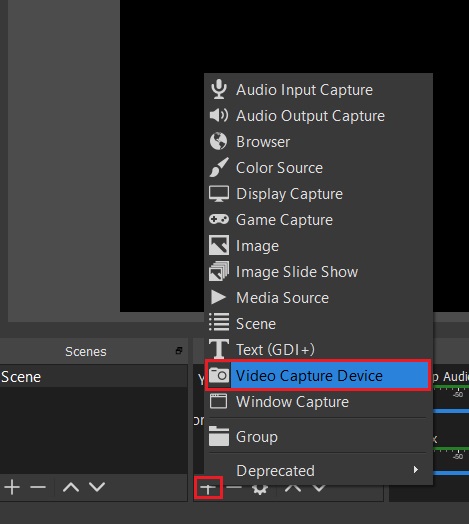 9. After that, select "DroidCam Source 3/2" as Device from the drop-down menu. Now, click on "Ok" and you will be streaming live on OBS from your Android smartphone.