The existence of a future iPhone 9 (or iPhone SE 2) is no longer a secret, we have a lot of information, such as the approximate date of its presentation ,  its start-up price  and even its sales forecasts  for the year 2020 .
As for the iPhone 9 itself, no photos or any other visual leak has circulated on the net for the moment. We can therefore stick to concepts.
A concept that is based on rumors For the moment, it is the people who make their imaginations work that make the buzz, with what are called concepts.
The principle is simple, just take the rumors conveyed by indiscreet sources of production chains in China, Taiwan and India (or analysts like Ming-Chi Kuo) and make " product sheets " presenting a potential future generation of iPhone.
In this little game Svetapple.sk has released something rather credible , since it has taken up all the rumors around the iPhone 9 and has not done too much, which makes the concept more likely to be realized. Red, black and white Three colors for this concept of iPhone 9.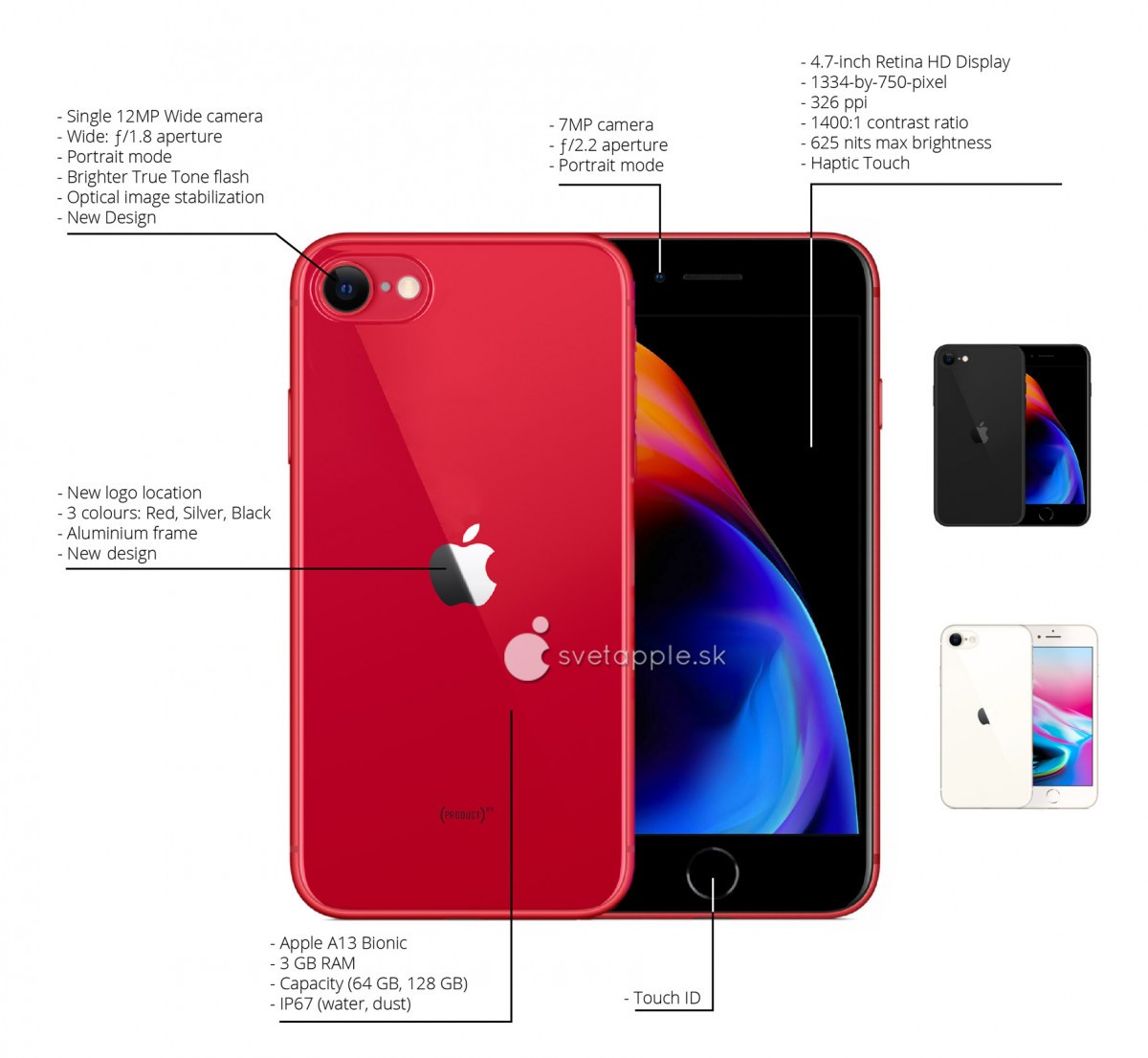 We find a red , white and black version , colors already seen in previous versions of iPhone.
As you can see, the Apple logo has been placed in the middle and is no longer centered at the top, the new entry-level iPhone would take the aesthetic codes of the iPhone 11. At the rear camera, Apple would have been soft, since we find 12 megapixels , portrait mode, image stabilization …
For the front camera, we find 7 megapixels with portrait mode. "Basic" performance, but hey, it's quite normal since it would be marketed from 399 dollars according to rumors.
What seems a little less likely concerns the screen. The Cupertino company would put the edges back when the trend has shifted to borderless screens (even for smartphones under $ 500). A little hard to believe.
This is certainly the weak point of this concept. Continuing with the screen, we would find a size of 4.7 inches with Retina HD Display.
A size that could slow sales of the iPhone 9. For the quality of the screen, we clearly do not expect OLED for a model at this price.
It is too expensive and it is hard to see Apple saying "it does not matter, we will sacrifice our profit margin a little". Last interesting point, the screen would have the Haptic Touch , as for the last iPhone released in September 2019.