The most baffling thing about the Mi Note 10 is the chipset it employs, especially when that's compared to the top notch quality of its other specs and features. Although the Snapdragon 730G still is Qualcomm's best mid-range chip, at least it used to be before the 765 came out, we can't help but mention that we would've really seen the Mi Note 10 going with the 855+ in order to create a full high-end package. Alas, that's not what happened, so we're evaluating the performance of the 730G for the first time in a long-term review. As usual, we're going to give you our inherently subjective opinion based on how it felt in day to day use, and not raw numbers – if you want those, make sure you read the charts in our normal Mi Note 10 review.
Frankly, if there is one area in which the Mi Note 10 falls short, that is performance. Don't get us wrong here – we mean that it may feel like it falls short in comparison with everything else about this phone. We weren't expecting the mid-range Snapdragon to be on par with flagship chipsets, naturally, and it's not.
The Mi Note 10 is just very clearly slower than any handset with a Snapdragon 855, day to day, in every task. There's not a huge amount of random lag or stutters (although we encountered those too a few times), but if you've used a device with a flagship chipset from 2019 and then switch to this, you will never not notice the delta between them, small as it may be. The experience is consistent, however, and that's a huge plus. It doesn't randomly slow down even more, or get fast for a few seconds and then slow again, none of that.
The Mi Note 10 is slower than even some phones boasting the Snapdragon 845 from 2018, such as a OnePlus 6T we had around just to do a half an hour unscientific test of using them side by side. One of the most obvious differences is how fast the same website loads, using the same browser, but even just navigating through the UI feels slower.
Again, it's important to stress that while we felt this difference, it's definitely small, and we do handle more phones than most people, which means we can more easily tell such things. And if you're coming to the Mi Note 10 from a mid-ranger you won't feel it. This may not all have to do with hardware – MIUI 11 is still fresh and there could be some more optimizing to do there in software to make things faster.
The Mi Note 10 is definitely not the smoothest phone ever, but it does okay in this highly subjective assessment. It's not so much choppy as it is just infinitesimally slow in everything. Not that it will win any smoothness awards, either, but if you want a comparison in your mind – it's about as smooth as the Samsung Galaxy S10+ was before the Android 10 update (we haven't retested that one so can't vouch for how things are after the new software version came out).
That's obviously not bad, but Xiaomi flagships (or 'flagship killers') usually top Samsungs in both perceived speed and smoothness. If you want to look at this another way, though – it means the Mi Note 10 is as smooth as a top of the line Samsung was a few months ago. And that's an interesting achievement in itself, though we were expecting more, based on our previous experiences with Xiaomi devices and MIUI.
Battery life
The Mi Note 10's huge 5,260 mAh battery capacity might get you to think that this would end up being the best phone for endurance we've ever tested for a long-term review (because it's certainly the one with the biggest battery).
But while battery life has been great, it's not actually record-breaking, weirdly enough. We hate to try and pin the blame on the SoC used, but what else can it be, really? With our usual use-case we never had a situation where we needed to charge the phone before our day ended. However, the Mi Note 10 also never lasted full two days, unlike some other phones like the Huawei P30 Pro for example (which has a much smaller battery).
Basically if we didn't charge every night, then we'd have to juice up the battery at some point during the next day. We got around six hours of screen on time on a regular basis in this scenario – so from waking up on day 1 to having to charge on day 2, sometime around midday or soon after that.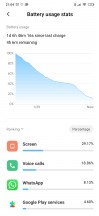 Usual screen on time from day one to mid-day two
If we're going with screen on time over just one day, we could have gotten around 7 (or rarely even 8) hours regularly, except that's not really earth-shattering considering the battery capacity. That said, the Mi Note 10's battery life is very good, and it's not likely you'll ever deplete its charge in just one day, unless your use case is even more extreme than ours and that's certainly a rarity.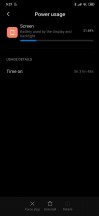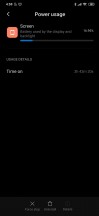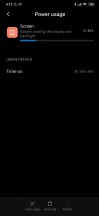 Screen on time snapshots over one day of use
Speaking of which, our use case involves around 14-16 hours off the charger, with mostly Wi-Fi connectivity, an hour or two of mobile data on 4G, Bluetooth and location always on, an hour or two of music streaming via Bluetooth, and an hour or two of phone calls.